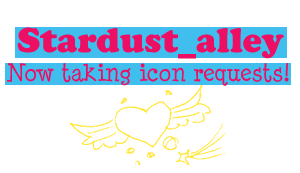 It's been a year and half since I've posted! I'm ridiculously bored and I can only handle so much of ROBOT UNICORN ATTACK on Adutswim.com. Therefore, icon requests are open! ALL REQUESTS WILL BE FILLED! ♥



Examples of my work:









Copy and paste the text featured in the textbox below into a comment, I'll make the icon, and you can enjoy! ♥ COMMENT TIME, GO!



REQUESTS ARE CLOSED, Y'ALL!
Come back soon and I'll try to open another post up!